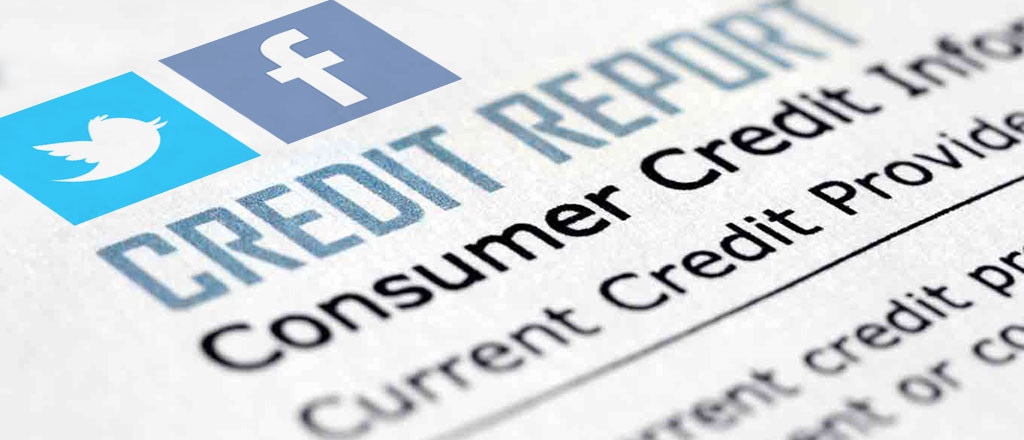 What you post on social media may soon play a role in your future credit and financial endeavors.
Like other industries, financial institutions and credit agencies are starting to turn to social media to assess credit risk and financial responsibility for those applying for credit and/or financial services. According to a recent article, this comes from the realization that as recently as 2015, somewhere around 26 million people did not have a credit score. Not surprisingly, a bulk of these people included Millennials, those who have not yet had opportunity to build up their credit or who are not opting to use credit cards (smart move, Millennials!).
Because it is difficult to obtain information on a person's financial responsibility based on more traditional methods, lenders and creditors are seeking data from social media to help keep the rejection rate from being so high while also allowing those with no established history to start one.
How does this happen? Essentially, social media can be researched around an individual based on known information – their name, date of birth, and address, for example. From there, social media research can be conducted to collect public facing content an individual posts online. This is not just limited to social sites – it can include message boards and forums, review sites, and even responses to online news articles. From there, the content that is collected is reviewed for "themes" or activities that may signal an individual may not be creditworthy, or alternatively, may show signs of financial responsibility, making them a small risk to creditors.
What exactly might lenders be looking for? Depending on the type of financing an individual is seeking, it could vary.
On the most basic level, it can be used to verify information provided during the application process. It's fairly simple to confirm employment, addresses, or other historical points of data by running a simple social media search.
Verifying employment/employment history based on an individual's LinkedIn profile coupled with social media posts. For example, social posts along the lines of "Well this one lasted three days. Hated the place and quit" or "Just started a new job. Hope this one works out" may give some insight into an individual's work patterns.
For those just out of college, a lender can look at past history through the college years. Did the individual work during those years? Did they do internships, join associations, etc? This may show a pattern that alludes to financial responsibility. Alternatively, a history of continual partying, skipping classes, etc. may show otherwise.
Look to past financial history: while someone may not have a formal credit score, patterns may show that a person may not be financially responsible. Content such as "Blew all my money on much needed retail therapy. Guess the phone bill will have to wait" that has a consistent pattern may make some lenders think twice. An appearance of "living outside your means" can also be problematic.
Social connections can be used as a virtual list of references: by looking at an individual's list of friends & family on social sites, inferences could be made about who the person tends to interact with. Are these people upstanding individuals, or is there a pattern of connecting with individuals who may signal a troubled lifestyle?
There are some stepping stones in social media content becoming a standard part of a credit score, however. It's difficult to look at a person's social media content in a completely objective manner, and there's also the issue of making sure laws are adhered to with regard to what can and cannot be included in a credit check. Some other considerations that need to be made:
Language to make it crystal clear to applicants that social media content can be used in making a decision needs to become standardized & included in disclosure statements when applying for loans, credit cards, etc. This should include what information can be obtained and how it will be obtained, as well as clear consent given by the applicant.
The FCRA (Fair Credit Reporting Act) will need to be enhanced to include social media data and rules that apply specificially to that. I imagine this will take quite a bit of time, especially since social media is still new in the area of being used for legal purposes.
Education needs to be enhanced in general about public facing vs private social content. It's surprising that this many years later, this is still an issue. However, continued education needs to happen across the board so those using social media and other online forums understand where they are posting and what can be seen by the general public.
While right now this is only starting to be discussed and used by lenders and creditors, I would not be at all surprised if this is a common practice five years down the road.