Those seemingly innocent emojis that we use daily…Did you know there is danger lurking behind them?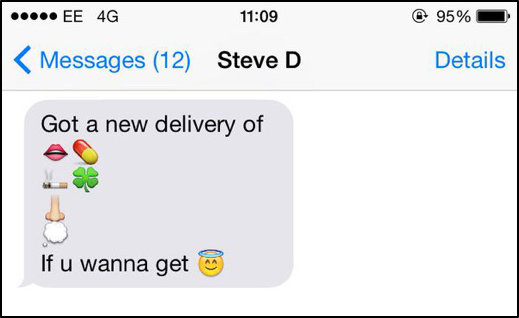 What can look harmless in a social media post or text message may have a different meaning to teens. The BBC Scotland recently aired a documentary on kids selling drugs online. An excerpt follows:
Teenagers are employing a code made up of 'emojis' – small digital images normally used to convey emotions – to conceal the deals. One of the country's largest drug gangs told a BBC documentary 75% of their takings now come through social media transactions, using 'digital-savvy' school pupils.

Film-maker Stacey Dooley confronted the young dealers, highlighting the ease with which illegal transactions can be arranged. One of them, 15-year-old 'Denver', was wearing his school uniform when he was filmed trying to sell her seven pills of MDMA, also known as ecstasy, at Maidstone railway station.
In the show, Stacey met Corey, from Glasgow, who said he's been buying ecstasy since he was 12.
"It's always been online for me," he claimed, "It's mainly through Snapchat and Instagram. You can get them in seconds straight to your door."
"I think the draw to Snapchat is the fact that the messages aren't permanent," Corey observed. "You can speak to a larger amount of people and you can show it to people who are thinking about taking drugs."
'Digital' Dealers
Using fake profiles on Instagram, Snapchat and the new 'Tinder for Teens' app Yellow, Stacey revealed how easy it is for children and young teens to get their hands on Class A drugs via seemingly unmoderated and unprotected social media platforms.
She was able to use emoji to ask for drugs and then arranged to meet and confront the 'digital' dealers.

What do you think? The more we know as parents and law enforcement professionals, the better. Social media is changing every day.