Through trial and error, local law enforcement agencies are now using social media as a communication tool to build public trust and catch criminals. Online, officers can ask communities to assist in investigations, relay information to the public during crises and praise themselves and others in jobs well done.
In Alachua County and its surrounding counties, small and large law enforcement agencies alike often have at least a Facebook page, if not several accounts, to communicate with the public.
Lauri Stevens, founder of LAwS Communications, advises law enforcement agencies on how to use social media to their benefit. "Social media is a police tool, just like a Taser or any other tool that they have," Stevens said.
In a 2016 survey of law enforcement's use of social media, the Urban Institute found that 91% of agencies used social media to inform people of public safety concerns, and 89% used it for community outreach and engagement.
What are the Risks?
KiDeuk Kim, senior research associate at the Urban Institute, said using social media has its liabilities, including posting inaccurate information, failing to update posted information and unnecessarily revealing the identities of victims.
In June a former Alachua County Sheriff's Office Public Information Officer posted a picture of a 3-year-old girl whose father left her in a car when he fled police. The picture shows the girl holding a plush dog with a deputy sitting behind her. The girl's mother commented on Facebook, "This is my daughter and I thank the ASO for taking care of her until I arrived."
While the photo was able to highlight the work of deputies on the scene, it could have gone terribly wrong. A parent or guardian should be notified before a posting featuring their child is published due to the child being too young to give consent.
How to Connect with Residents
Officer Ben Tobias, Public Information Officer for the Gainesville Police Department commented, "People don't want to hear, 'The police say this, and the police say this'. They want to know that their police department and their police officers are human beings as well, with feelings and emotions."
On Twitter, public information officers use a lighter approach when it comes to posts. Mugshots are shared with hashtags like #GlamourShot and #DontPassGo.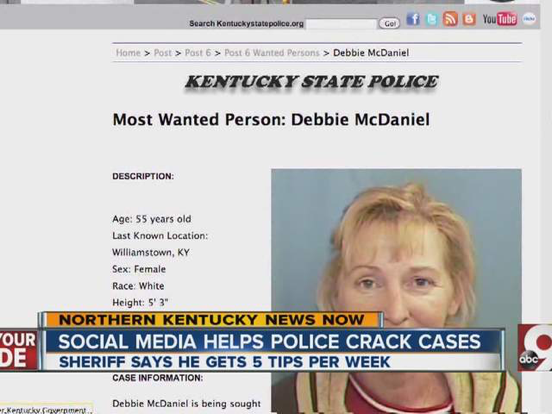 Chris Sims, a former Alachua County Sheriff's Office public information officer, said the agency hasn't received complaints from suspects or other citizens about their poking fun, and he added that it helps draw people in to further connect with the agency.
"It may not be the story that triggers that response from the citizen, but they see the funny hashtag and they kind of giggle at it or go, 'Oh, look, they're with the times,' or what have you, and all of a sudden they read our story," Sims said.
Social Media Monitoring
In Overland Park, Kansas gunman Matthew Riehl opened fire on deputies in Colorado as they came to his home, filming the whole thing on Periscope. He killed one deputy and wounded four others. He also shot two civilians. NBC News reported Riehl had previously posted anti-law enforcement videos, including one where he was running for sheriff.
Overland Park police said if people make threats against police on social media they look into it, especially if a specific officer is referenced. If videos with anti-law enforcement messages are posted, they make nearby departments aware.
Officer John Lacey, with Overland Park Police said, "If someone is saying things about police departments, 'I want to shoot a cop, I want to do bodily harm.' I usually get that information and transfer it to our detective division and let them take a look at it." Lacey monitors the Overland Park Police social media accounts and said they focus on being moderate, transparent and approachable.
Lacey and four or five detectives use social media in investigations as well. They are looking at people who are trying to solicit children, things of that sort," said Lacey. Last month, Lacey said tips came in as posts when Mikayla Norris disappeared from the Jack Stack at 95th and Metcalf. The department posted her photo, vehicle description, its license tag plate and information came in on their Facebook timeline.
Next month, Lacey will also be teaching other departments across the state of Kansas how to use social media to their advantage.
About Us:
We have been mining social media since 2007 for our clients. By utilizing best in class software programs, we offer a service called eChatter.
eChatter works with you to obtain your objectives in a fast, accurate and reliable facet. By keeping our strengthened principals, yet evolving with this industry, we lead in social media monitoring. Since 2007, we have been dedicated to providing our customers with the most authentic data.
We offer:
·       Deep Web Scans
·       Jury Vetting
·       Jury Monitoring
·       Quick Scan
(866) 703-8238