Every three minutes a child is reported missing in the UK; across the EU that number rises to one child every two minutes.
In the US, the FBI recorded almost 467,000 missing children in 2014, which is close to one reported every minute.
In the US, milk cartons, posters, flyers, and traditional news reports were the main missing child search channels until 1996, when Dallas-Fort Worth broadcasters teamed up with local police to develop a warning system that interrupted regular programming on television, radio broadcasts and highway signs. That service, Amber Alert, is used only for the most serious of cases, sending out messages via email, text, traffic signs and digital billboards, as well as through Twitter and Facebook.
In 2015, Child Rescue Alert partnered with Facebook to harness the social network's reach. Now, when a missing child case meets certain criteria of seriousness, law enforcement agencies can issue geo-targeted posts, containing a photo and description, to appear in the newsfeeds of Facebook users in the area where the child is believed to be.
Rachael Powers, a criminologist at the University of South Florida, says that social media has become "the new milk carton campaign" for police departments across the country, stressing the importance of publicity for missing persons cases. "It's the difference between 40 eyes and 4,000 eyes," she says.
"Time is often a crucial element when locating vulnerable missing people who are at risk to themselves or to the public," says Metropolitan Police commander Alison Newcomb. "The use of social media supports our investigations and appeals and has achieved great results, some of which simply could not have happened through traditional communication channels."
DC cops are also doing more to publicize the most critical cases. In December, the department began issuing press releases for every single "critical missing" person—defined as anyone under 15, over 65, or otherwise deemed to be vulnerable. Not every critical case had received a press release under the old system. This year, DC officials said at the press conference, 95% of the missing persons cases have been closed.
"If a person goes missing, commands make initial notifications on social media. Then posters are made," said Zachary Tumin, deputy commissioner for strategic initiatives and leader of the NYPD's social media efforts. "As that information gets retweeted by police and the public, word spreads very quickly to be on the lookout for that missing person."
"First year results aren't in yet, but I think we've been successful. We currently have hundreds of thousands of followers on Twitter and we have to take advantage of that going forward," he said. The NYPD's Twitter campaign comes three years after the creation of its Facebook page, which currently has more than 380,000 likes. Tumin expects all police officers to be issued their own smartphones in the next year or two; that will help them push out information quickly.
Before social media, spreading the word about the missing was hampered by limited outreach to those in direct position to help. Amber Alerts were mainly broadcasted on television, radio and on highways. Distribution of missing posters was also limited, only displayed in communities in which the individual was last seen and or lived.
Now, organizations like National Center for Missing & Exploited Children can increase the likelihood missing children are found thanks to more immediate and full-range awareness raised on Facebook, Twitter and Instagram. These social media platforms have 1.2 billion, 288 million and 300 million monthly active users, respectively.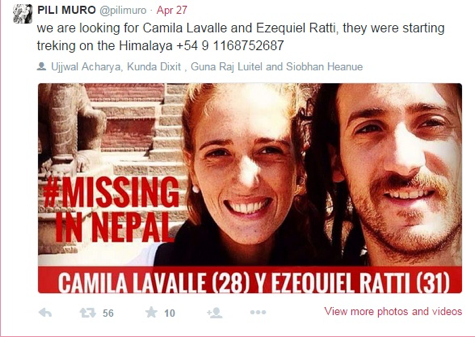 "Our social media properties allow us the ability to geo-target our missing children's posters. In doing so, we are able to reach people who may be in a direct position to help," said Ashley Iodice, spokesperson for the National Center. In March, the non-profit ramped up video production across all its social media platforms and launched videos that feature family members of lost children. "We have found that video elements in the digital media space garner more viewership, which we believe will help in finding more missing children," said Iodice.
Gavin Portnoy, head of digital media at the National Center for Missing & Exploited Children, which makes active use of Facebook, Twitter, YouTube, Instagram and Snapchat, has proof of the power of sharing. In 2015 the charity created a video appeal featuring imagery of a missing girl and the person they suspected had kidnapped her. The video was shared widely and a woman spotted them. "People feel empowered to make a difference; it's the opportunity to do something," he says. Portnoy, however, says that while he recognizes that social media is by no means a perfect tool, its benefits should be acknowledged. "It is another really positive tool that's in the arsenal of the public, of law enforcement, of non-profits like us that are trying to help."
About Us:
We will conduct a missing child social
media search for FREE anytime! 
We have been mining social media since 2007 for our clients. By utilizing best in class software programs, we offer a service called eChatter.
eChatter works with you to obtain your objectives in a fast, accurate and reliable facet. By keeping our strengthened principals, yet evolving with this industry, we lead in social media monitoring. Since 2007, we have been dedicated to providing our customers with the most authentic data.
We offer:
·       Deep Web Scans
·       Jury Vetting
·       Jury Monitoring
·       Quick Scan
(866) 703-8238