There's a new twist in using social media monitoring, thanks to geo-based monitoring capabilities. This is good news for those interested in increasing contact lists for email marketing, or even for non-profit organizations seeking to increase their donor base.
Below is a great example of how geo-based social media monitoring can be used effectively. With this newer piece of social media monitoring, a virtual "fence" can be set around a particular area to see real live social media posts from that area. From there, keywords can be utilized to further enhance the results if needed. What results is a list of individuals and their public social media accounts for targeted engagement.
A park is looking to increase donations to make improvements on their walkways, hiking trails, and other amenities. Outside of traditional means of gaining visibility and traction, geo based social media marketing can easily identify those who use the facilities to market directly toward them. Once they identify visitors via social media accounts, it is easy to engage with them on social sites, and use the site's advertising platform to message this group directly. It can be effective in encouraging email signups, bring awareness of the project to a targeted group, and increase website visits, which may turn into donations.
Here's why it works and provides better targeting for online advertising/engagement
People may be posting images while they are on the hiking trails, but never specifically say where they are. However, the geo-based monitoring will identify their location at the park. The image below is a great example of this: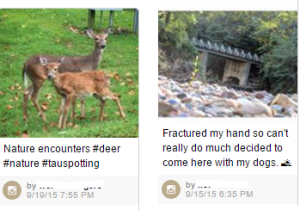 In the collage of results, you'll have the screen name for the individual who posted (these were removed for the purpose of this blog post), as well as the date/time they were visiting and details on what part of the park they visited.
You can engage in a few different ways: once you have the collage of results, you can engage with them directly from your social site, either publicly or via private message, or receive the list of screen names to import into a Twitter ad campaign, for example. Twitter offers a tailored audience feature, which allows you to segment a group of Twitter users based on your geo-based research, and have the ability to communicate and/or advertise directly to them.
This is becoming an inexpensive, efficient way for businesses to refine their advertising efforts. It's especially useful for organizations where it may be difficult to identify visitors and groups via traditional means. You can learn more about this service on our website.