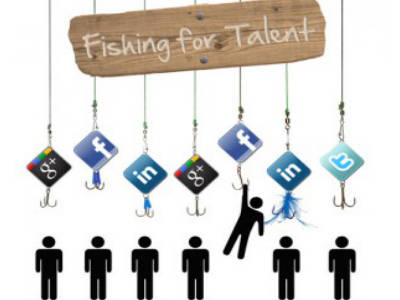 There's been so much focus on individual social media profiles and the importance of making sure your social identity presents your "best self" when searching for a new job, yet there's been very little talk of a company making sure their social identity is secure before advertising that they're hiring.
Social hiring is taking off, and it's important for companies to be just as aware as job seekers when it comes to social media reputation.
What is social hiring?
Essentially, this is recruiting and identifying potential job candidates through social media sites, namely LinkedIn and the like. It now extends beyond LinkedIn to Facebook and even Twitter. At first glance, you would think this is pretty simplistic – companies posting job openings on these sites, or reaching out to those on LinkedIn, for example, who indicate they are seeking new employment and might be a good fit for your company.
But it's much more than that.
Just like a job candidate, it's important for companies to have a positive social media reputation in order to attract new hires. One aspect that is overlooked is creating a sense that the company is a great place to work. While overlooked, it is becoming increasingly important.
Research shows that 65% of survey respondents would consider a job opportunity if it came from a personal connection, and more and more people expect to better understand a company's culture before applying for a job. If done correctly, companies can easily recruit new hires that will be a good fit.
So, what does a company need to keep in mind when creating its social media presence, especially with regard to hiring?
Keep tabs on social media reputation. This is just as important for recruiting new hires as it is for monitoring customer satisfaction. A continued social media monitoring program will give your company insight into what prospective employees may see if they are doing research – a quick Google search may show positive (or negative) customers reviews, or they may be directed to an employee driven review site such as Glassdoor.
Take a close look at your social media sites. If you were a stranger reading through Tweets or the company's Facebook timeline, does it seem like a company you would want to work for? How is the consumer engagement – vibrant and active, or sparse (or worse, nonexistent)?
Let others see what happens behind the scenes. Creating a "talent brand" for your company will give potential employees a chance to get a sneak peek into what it's like to be an employee. It will have the added benefit of letting your customers see "behind the curtain" as well. What does this mean? Simply put, allow your employees to create content to post to their social sites that highlights their employment – let them show off what they do best, what they like about their work, and what they like about the company in general. Professionally, encourage them to join LinkedIn groups and showcase their talent through participation. Encourage them to engage with the company's social sites to create a sense of cohesion and enjoyment in the workplace. Any content deigned to showcase the company culture will help boost customer satisfaction and allow potential employees to want to work there.
Just like companies engaging in social media monitoring to find out more about potential job candidates, individuals are doing the same research on companies. Make it easier for people to decide they are a good fit for your company by providing a strong social media presence that is culture focused – it can make the job search easier when it's time to recruit. The right social media presence can make it easier on both ends, thus potentially making the hiring process more efficient on both ends of the search.