Social Media companies are still being challenged for not doing enough when it comes to selling drugs on their platforms. Snap Chat, Instagram, Tik Tok and others have been sited for not doing enough to curb illegal drug sales on their sites. Parents, in particular, are passionate about this issue. With the rise of Fentanyl, the online sales of fake pills that include the synthetic opioid is staggering. The dealers use social media to advertise to young people. So even if a young person isn't interested in mining social media for a drug of choice, the dealers come to them.
The Drug Enforcement Administration (DEA) issued a warning back in September 2021, warning about the increase. Anne Milgram, the DEA Administrator, called out two apps that were very popular with teens and young adults: Snapchat and TikTok. She was quoted in the Washington Post that they were not doing enough to combat sales. But will the request go unnoticed?
This has been occurring for years on several social platforms. Many of the platform executives have said they are doing all they can on their end. Companies have hired extra moderators, using artificial – intelligence algorithms to flag unwanted posts. To date it continues to be an issue as many young people are dying from this type of drug.
To date, more than 93,000 people died of drug overdoses in the US in 2020. This is an increase of 30% from 2019.

CDC
The Advertising of Illegal Drugs to teens and young adults.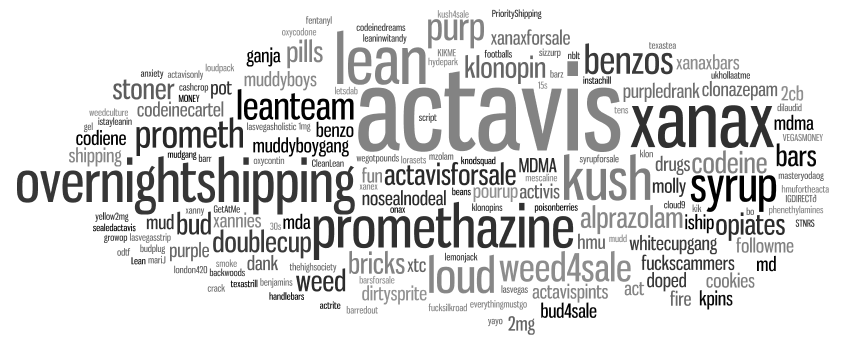 The Organization for Social Media Safety, ran an informal test and found they were able to connect with drug dealers on multiple social media sites in under three minutes.
Volteface commissioned Survation in January 2019 to conduct a nationally representative poll of 2,006, 16 to 24 year olds. The research was conducted on Facebook, Instagram and Snapchat. Fake profiles were set up and researchers did not communicate with any social media users. Key findings were as followed:
One in four young people (24%) reported they see illicit drugs advertised for sale on social media.
Of those who reported seeing illicit drugs for sale on social media:
56% saw drugs being advertised on Snapchat, 55% on Instagram and 47% on Facebook.
63% saw Cannabis being advertised – making it the most seen drug advertised for sale. Cocaine was the second drug most seen advertised (26%), followed by MDMA/Ecstasy (24%), Xanax (20%), Nitrous Oxide (17%) and Codeine/Lean (16%).
Encryption and VPN technology makes it difficult to trace dealers. There is also a lack of information sharing between police and social media platforms. All of this makes it very hard to get this off social media.
Searching for Drugs Online: (American Addiction Centers: Drug Abuse.com )
Think it is hard to find illegal drugs in social media? You might be very surprised to discover that people are selling drugs in the most blatant fashion. In fact, even their user names make it obvious! With user names like "ihavedrugs4sale", and drug-riddled posts/pictures, the dealers make it quite obvious. The study revealed that the most popular items included marijuana, prescription drugs, painkillers, xanax, molly (mdma) and lean (codeine syrup mixture). Example below of items found in social media: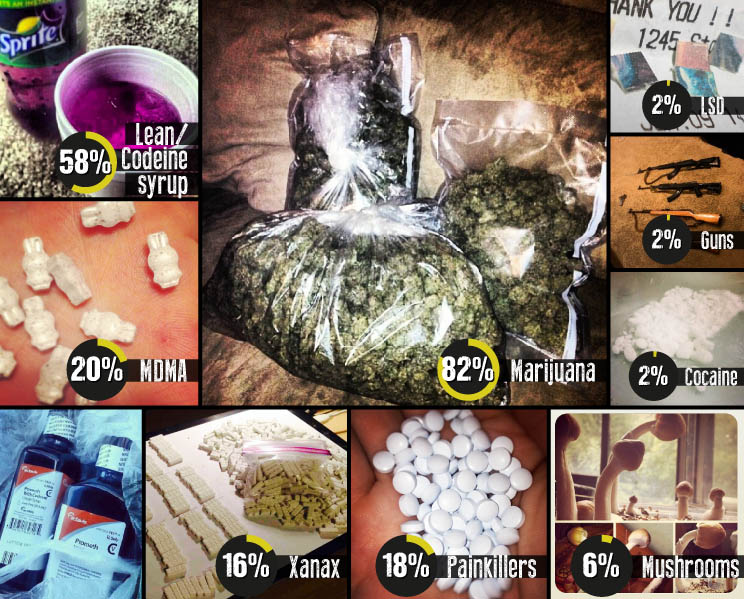 This year a Santa Monica teen, named Sammy Berman Chapman asked his dad for a cheeseburger and went to his bedroom. An hour later his mother found him dead on the floor.
Sammy was killed by a Xanax pill laced with fentanyl, which is a synthetic opioid 50 times as powerful as heroin. The culprit: a drug dealer on Snapchat and, from the parents' perspective, the company Snap itself, which they said was not doing enough to protect young users like Sammy. They went to the company for answers on how this could happen. Snapchat's rep stated:
"Continuing to significantly improve our operational work to eradicate drug dealers from Snapchat, along with raising awareness of the dangers of fentanyl and other illicit drugs, will be a long term effort for us — we will keep working to do better and help keep our community safe," said a Snapchat spokesperson.
It is an uphill battle, but one that is worth fighting for.