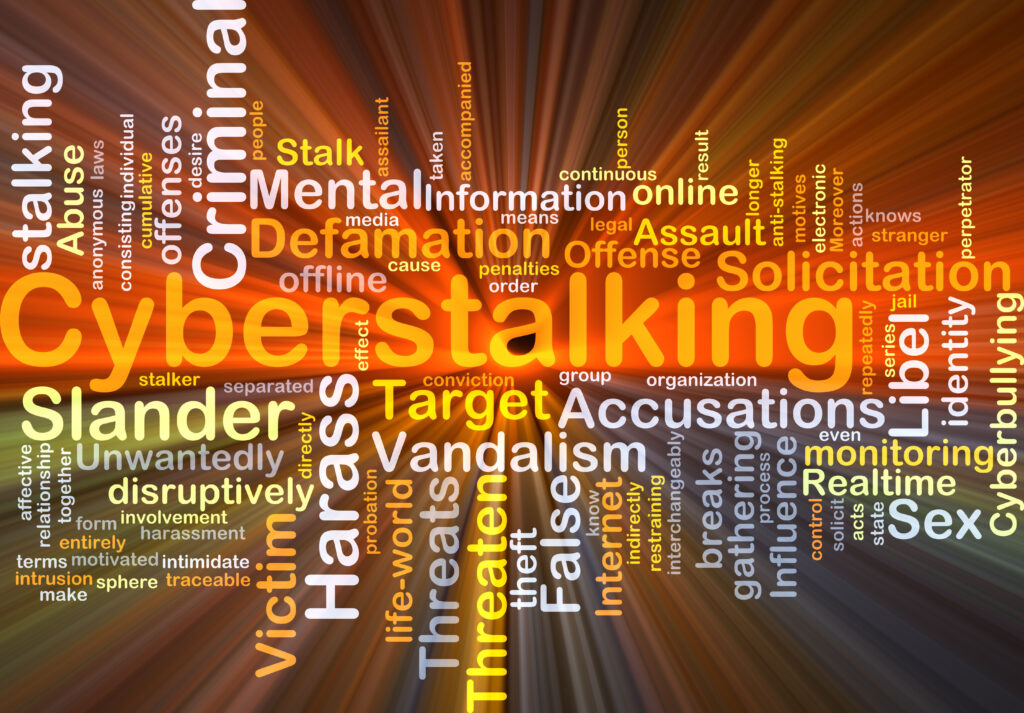 Imagine you are taking a once in a lifetime style vacation, visiting the most amazing places, eating the best food at highly rated restaurants, and experiencing the spectacular view from your hotel room window. How much of this would you feel led to share on social media? And of that, how many of the posts would you geotag with your location? We are currently living in a world full of 8 billion people, and 4.9 billion of those people engage in social media. That is over half of the entire world population, sharing information about their lives on the internet. There is a large majority of people who engage in social media who do so privately with the exception of close friends and family. You then have the other side of the coin with people who share their social media experience with all 4.9 billion people on social media. This is where the danger of social media truly lives, cyberstalking.
Cyberstalking
It has been reported that each year there are an estimated 850,000 adults in the United States who are victims of cyberstalking. This is an issue that is unfortunately not discussed nearly as much as it should be, especially with the younger generations.
Take the story of TikTok star Ava Majury. In 2020, 13 year old Ava had attracted over 1 million followers to her social media accounts by sharing videos of herself doing dances and lip synching to popular music. Ava began receiving messages from an 18 year old boy named Justin, who she assumed was just another one of her fans. Justin, through social media, was able to locate friends and classmates of Ava's who he paid in exchange for photos of her and her cell phone number. It was clear that Ava had developed a Cyberstalker and she blocked him through all her social media. Still, Justin was able to connect with people through social media to discover where she lived and show up to her house armed with a shotgun. Ava's father, a retired police lieutenant, ordered him to leave their property and drop his weapon. Justin did not listen and his intent on causing the family harm was made clear, and he was fatally shot by Ava's father. Ava continues to share content online publicly with the support of her parents.
Social Media Influencers
Stories like Ava's are more common than you think. In September of 2018 there was a story reported of a 21 year old man who was arrested for breaking into a home and bedroom of a 13 year old girl whose address he had found by studying her posts on social media. Take Tabitha Swatosh, better known as the "big sister" of the internet. Tabitha has made her fame through TikTok but also through YouTube as she posts videos of her lip syncing to different sounds as well as 'vlogging' her everyday life. She has over 13 million followers on her TikTok account, and has been a part of the Hype House since 2022.
You may wonder what the Hype House is. Well, the Hype House is a content creator collective and an actual physical rental mansion in Los Angeles, California. The whole point of having this home is for the members of this tight knit club to collaborate with each other and brands making viral content for the internet. It was created by (at the time) 17 year old TikTok star Lil Huddy and 21 year old YouTube star Thomas Petrou. Over the years they have had a multitude of members including some of the more recognizable Charlie and Dixie D'Amelio.
So how does this fit into cyberstalking? Well, Hype House member Tabitha Swatosh has been very open about the countless stalkers she has obtained throughout her social media journey. The most recent being in December of 2022, Tabitha posted to TikTok sharing that she has to move for the 3rd time in one year due to a stalker coming to the door of her apartment. Despite Tabitha's history with stalkers, she continues to share videos on her TikTok showing parts of the outside of her new apartment building as well as distinguishable features of the inside. The content that she has shared about her most recent stalkers has combined views of over 8 million. So now we ask the question, is society romanticizing cyberstalking?
Social Media Oversharing
On your journey through social media you can find content of people stalking their current love interests on social media, learning things about them that they shouldn't really know based on their in person conversations. You have instances like the current pop culture drama between Hailey Beiber and Selena Gomez, where society is deep diving into the archives of social media to prove a point about these two celebrities saying they're 'investigating' when really it could be considered a form of cyberstalking.
Finally, taking a look at one of the most popular Netflix shows currently streaming called You. This show follows the lead character Joe Goldberg who is a serial stalker, and it is narrated from his point of view. Viewers are taken through a journey as Joe stalks people online, in person, and kills people all under the illusion of him having to do these things to protect the people he loves… Society LOVES this character, choosing to see his better qualities and ignore the bad.
Are we, as a society, becoming desensitized to the risks of publicly oversharing on social media? It is very possible to have a safe online presence, but the current 'influencers' are pushing the narrative that to have a multitude of followers and viral videos, you have to share the private details of your life publicly. Is this really the example we want to set for the youth of America? Are we encouraging them to share private details of themselves online just for the sake of chasing clout? No matter what the circumstances? It sure seems as a society we need to be much more aware of what we post publicly.