When conducting online research, a person's email address can be vital. When you consider that most social media platforms and online forums require an email address to sign up, you could be missing important information by not knowing it.
When conducting a basic background search there are times you don't even pull up one email address on a subject. There are ways to find someone's email address online.
Tools to Try
Where does the subject work? Knowing the name of the company (as long as they have a website?, can be step one. Next, use an email look up tool.
Hunter..io: They have a free search tool on their website. In the example below, I used it to find email addresses for our website, www.e-chatter.net. Two email addresses were found. The great part of this is that even though they don't provide the entire email address, you can see the format in which the company uses for their employees. If you were searching for me, you would know that my name is Kathy Doering. Easy to figure out that we use first name initial and last name as our format.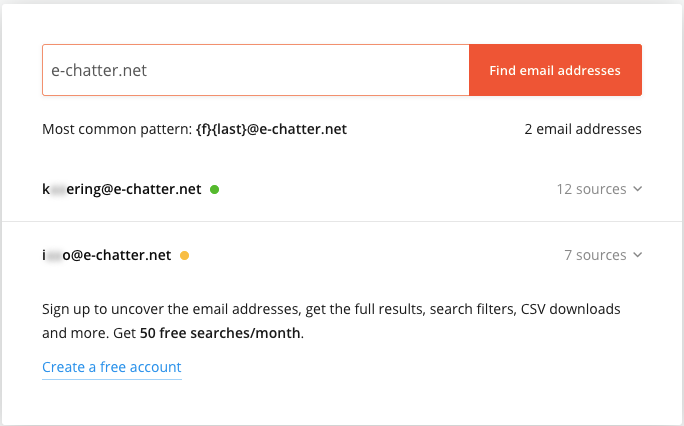 2. Rocket Reach: Search by name + Company, or Linkedin URL. You can also search by locations, title, industry, revenue, SIC, and + 15 other attributes & filters. You will have to sign up for a free account with this site however.
When searching for Kathy Doering, Rocket Reach found 3 correct email addresses. They also found several low ranking results that were not connected to me. They did have false positives like any other search tool.

3. Search using Duck Duck Go: Using an alternative search engine like DuckDuckGo, is a little known trick. Use "@domainname.com" in the search bar. Also try "@domainname.com" contact. This is not something that will work in Google or Bing. You can include the name of your prospect in the search if you're looking to contact someone in particular, or just keep it generic.
In case you already have an email address and want to check to see if it is legitimate, refer to our blog post from May 2020, "Who is Tied to This Email Address?"