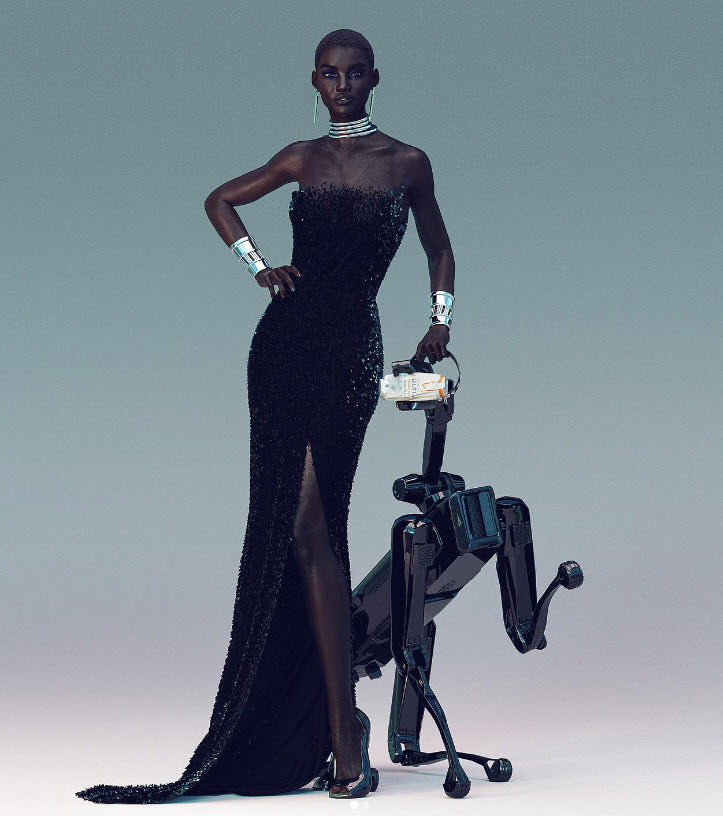 AI-generated virtual influencers are computer-generated characters or personas that exist solely in the digital realm. These influencers are created using artificial intelligence and are designed to mimic human-like appearances, behaviors, and personalities. They have gained significant popularity in recent years, particularly on social media platforms.
Here are some key points about AI-generated virtual influencers:
Creation Process
Virtual influencers are typically created by teams of artists, designers, and developers who use computer graphics and AI technologies to design their appearance and define their characteristics. These characters can range from realistic human-like figures to more stylized or fantastical designs.
Digital Persona
AI-generated virtual influencers have carefully crafted personalities, backstories, and interests. They are given unique traits, preferences, and behaviors to make them more relatable and engaging to their target audience.
Social Media Presence
Virtual influencers maintain an active presence on social media platforms, particularly Instagram, where they share content such as photos, videos, and captions. They interact with their followers, collaborate with brands, and promote products or services, similar to human influencers.
Brand Collaborations
Virtual influencers have become sought-after partners for collaborations with fashion, beauty, and lifestyle brands. Companies see them as a way to connect with younger demographics and to leverage their digital influence to promote products or services.
CGI and Motion Capture
The visuals and movements of virtual influencers are often created using computer-generated imagery (CGI) and motion capture technologies. These techniques allow for realistic animations and lifelike movements, enhancing the believability of the virtual influencer.
Challenges and Controversies
The rise of AI-generated virtual influencers has raised ethical questions and controversies. Critics argue that virtual influencers perpetuate unrealistic beauty standards and can blur the lines between reality and fiction. Additionally, issues related to transparency and disclosure of the virtual nature of these influencers have been a topic of debate.
Let's consider some notable examples of AI-generated virtual influencers. Lil Miquela, mentioned earlier, as well as other characters like Shudu, Bermuda, and Imma. These virtual influencers have amassed large followings and have worked with prominent brands, showcasing the growing impact of AI in the influencer marketing industry.
Miquela, also known as Lil Miquela or Miquela Sousa, is an AI-generated virtual influencer who has gained significant popularity and influence in recent years. Miquela presents herself as a 19-year-old Brazilian-American model and musician, primarily active on social media platforms such as Instagram.
Miquela's virtual persona and digital presence have captured a large following, and she has collaborated with various fashion brands, musicians, and artists. She shares photos, fashion content, music releases, and engages with her audience through captions and comments.
Although Miquela's persona is AI-generated, she is managed by a creative agency called Brud. They have positioned Miquela as a character with a backstory and emotions, blurring the lines between the virtual and real world. Miquela has used her platform to advocate for various social causes, including racial equality and LGBTQ+ rights, amplifying important issues to her followers.
Miquela's rise as an AI influencer has sparked discussions around virtual identities, authenticity, and the future of influencer marketing. Her unique approach has demonstrated the potential for AI-generated personas to engage with audiences and influence popular culture.
It's worth noting that Miquela's influence extends beyond AI and technology circles and has garnered mainstream attention. She represents an intriguing example of how AI can be leveraged to create engaging and influential virtual personalities, as an example.
While AI-generated influencers offer unique opportunities and advantages, there are several potential downsides and challenges associated with their use.
Authenticity and Trust
 AI-generated influencers lack the genuine human experiences and emotions that human influencers possess. This raises concerns about the authenticity of their content and the trust they build with their followers. Audiences may question the credibility and relatability of AI-generated influencers, leading to skepticism and potential disengagement.
Lack of Diversity and Representation
AI-generated influencers are designed by human creators who may inadvertently perpetuate biases and stereotypes in their design. This can result in a lack of diversity and representation in terms of ethnicity, body types, abilities, and other important dimensions of human identity. This lack of diversity can reinforce existing societal inequalities and marginalize underrepresented groups.
Ethical Concerns
The use of AI-generated influencers raises ethical considerations. There may be instances where virtual influencers promote products or services without disclosing their virtual nature, leading to deceptive marketing practices. Additionally, the ownership and control of AI-generated influencer personas and their associated content may raise intellectual property and privacy concerns.
Displacement of Human Influencers
The rise of AI-generated influencers could potentially impact human influencers' livelihoods. Brands may increasingly turn to virtual influencers, considering them cost-effective and controllable compared to human counterparts. This could lead to a decrease in opportunities for human influencers, impacting their income and professional prospects. Miquela has recently partnered with PacSun a clothing brand, wearing their clothes in her own virtual reality and showcasing them through TikTok.
Social and Psychological Effects
The growing presence of AI-generated influencers in social media and popular culture may have psychological effects on audiences. The blurring of reality and fiction could potentially impact people's perception of self-image, beauty standards, and social interactions. This can contribute to unrealistic expectations and create mental health issues.
A recent article written by Fortune, discusses a snapchat influencers launch of her own AI generated bot. Her bot allows users to be her girlfriend for $1 a minute, sparking concern over two realities blurring together.
As we enter this entirely foreign world of AI Technology, addressing these downsides requires responsible development and use of AI-generated influencers. Transparency, clear guidelines, diversity in design, and ethical frameworks are necessary to mitigate these concerns and ensure that AI-generated influencers positively contribute to the online ecosystem while upholding ethical standards and user trust.