By now we have all been schooled on what we shouldn't post publicly in social media and why. In fact, you can read all over the internet why it is not a good idea to post your COVID vaccination card. It is also not a good idea to post about vacation plans.
When it comes to insurance fraud, a claimant's social media posts plays an important role in any investigation. When someone is trying to claim an injury when there isn't one, they need to lock down. You would think that the fraudster would be careful when they post publicly in social media. This is not always the case. In fact, recently we performed a deep web scan on a person suspected of insurance fraud. This was a workman's comp case. A friend of the person actually cautioned him about a post he had recently added. She came right out and told him to be careful what he was posting. He answered her post by saying, "I not. I know how this works." The original post was deleted, so we never knew what he posted to make her say that. It was suspicious however, that he left this exchange up on his profile page. In other words, he knew he might be watched in social media.
"Checking social media accounts has become one of the first things an insurance company or adjuster will do when you file a claim," says Frank Darras an attorney from California who specializes in law suits against insurance companies.

Source:Auto Insurance Quote
What to Look For in Social Media
When we conduct a deep web scan, we start with the data points that we know to be true on an individual. Name, address, date of birth, employer, address and email addresses. They are all critical pieces of information because each one may hold an attachment to something online about our person of interest. It is also important in authentication. We need to be certain we have the right person.
Some tips we have learned along the way that may be of help to you include the following:
Check for multiple profiles. You just found your person of interest's Facebook profile and you think you are done there. Not always so. Many people have secondary profiles. They may have set them up, forgot about them or they use each one for different things. Believe it or not, you may discover them by looking through their friends list. This is especially true in Facebook.
Tell a Story: Across all social media platforms, it is important to check the dates of posts. When you put them altogether, they can tell a story of a person's activity. Just by combing through this information, you may find an inconsistency in their story or claim. Perhaps they are claiming to have taken a fall at work. Yet, a social media post may show them complaining about back pain days prior. Connecting the dots doesn't mean they are automatically guilty, but can mean that a deeper investigation is needed, just to be sure.
Proof of legally attained social media posts: That is where meta data comes into play. If you find something in a person's social media profile, you are going to want to extract that post and gather the intelligence behind it. Remember, screenshots can easily be altered.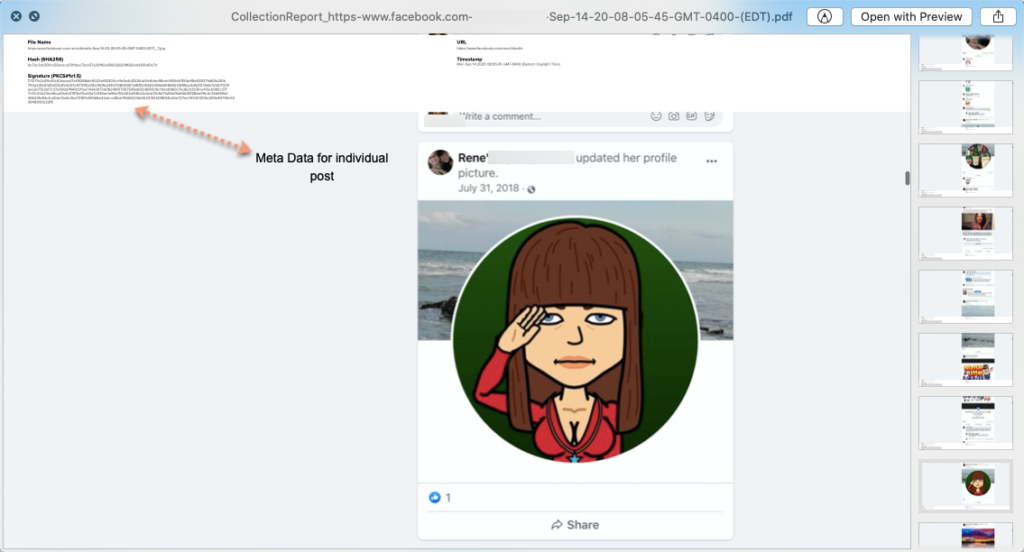 Video is the Golden Child
Instagram, TikTok, YouTube are all examples of social media known for their videos. People post videos of all kinds of things there. Searching these platforms can be very lucrative because of it. Just remember, if you do find something important there, you will want to not only obtain the meta data, but extract the actual video to keep as evidence that is admissible in court.
Keep in mind that we can extract videos and photos as well as capture the meta data from the post. Timing is everything however, and what is here today can be gone tomorrow.